دامنه معتبر SSL
وب سایت خود را فقط چند دقیقه ایمن کنید!
استاندارد چیست DV SSL?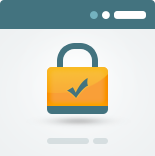 گواهینامه اعتباردهی دامنه یک روش اقتصادی و سریع برای پیاده سازی SSL به وب سایت شما می دهد. p>
دامنه گواهی معتبر برای وب سایت های شخصی، وبلاگ ها و رسانه های اجتماعی، و یا هر سایت هایی که خصوصی و محرمانه نیستند، ایده آل هستند. اطلاعات گواهی دامنه Validated، قفل مرورگر را فعال می کند و استفاده از https را برای اطمینان از بازدیدکنندگان وب سایت و مشتریان شما انجام می دهد که به طور جدی به حریم خصوصی آنها احترام می گذارید. p>

Recommended Use Cases
Blogs
Informational
Pages
Server-to-server
Communications
Delivered in Minutes for Instant Protection
The fastest and most affordable way to activate SSL protection for your website, issuance is quick and often fully automated.
Trust Site Seal
Our SSL Certificates come with a trust seal that has been proven to increase visitor confidence and customer conversions.
Boost your Google Ranking
Google uses SSL/HTTPS as a factor in determining search engine ranking. Add SSL today to help boost your Google ranking!
Certificate Features
Secure online transactions
99.9% Browser Compatibility
Our SSL certificates are from some of the most trusted brands in Online Security.



Powered by WHMCompleteSolution