Domain SSL doğrulandı
Vebinizi bir neçə dəqiqə ərzində təhlükəsiz et!
Standart DV SSL nədir?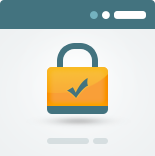 Domain Doğrulama sertifikatları, veb saytınıza SSL tətbiq etmək üçün iqtisadi və sürətli bir şəkildə təklif edir. Domain etibarlıdır sertifikatlar sizin domenə sahib olduğunuzu təsdiqləyir, lakin əlavə bir təşkilat səviyyəsinin qiymətləndirilməsini həyata keçirmir.Domain etibarlıdır sertifikatları Şəxsi veb-saytlar, bloglar və sosial media və ya gizli və gizli məlumatları ötürməyən hər hansı bir sayt üçün idealdır. Domain Validated sertifikat brauzer asma kilidini aktivləşdirir və veb saytınızın qonaqlarını və müştərilərini məxfiliyinizi ciddi qəbul etdiyinizə əmin etmək üçün https-nun istifadəsini təmin edir.
Recommended Use Cases
Blogs
Informational
Pages
Server-to-server
Communications
Delivered in Minutes for Instant Protection
The fastest and most affordable way to activate SSL protection for your website, issuance is quick and often fully automated.
Trust Site Seal
Our SSL Certificates come with a trust seal that has been proven to increase visitor confidence and customer conversions.
Boost your Google Ranking
Google uses SSL/HTTPS as a factor in determining search engine ranking. Add SSL today to help boost your Google ranking!
Certificate Features
Secure online transactions
99.9% Browser Compatibility
Our SSL certificates are from some of the most trusted brands in Online Security.



Powered by WHMCompleteSolution