Genişləndirilmiş SSL doğrulama
Ən yüksək etibar və dönüşümlər üçün yaşıl ünvan barını aktivləşdirin
Genişləndirilmiş SSL sertifikatı nədir?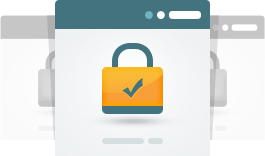 EV SSL, bu gün mövcud olan SSL-nin yüksək səviyyəli genişləndirilmiş Sertifikat sertifikatıdır və bir təşkilat və ya domain təsdiq edilmiş SSL Sertifikatını istifadə etməklə müqayisədə veb saytınıza daha çox etibarlılıq və etimad verir.
Genişləndirilmiş Doğrulama SSL aktivləşdirir yaşıl ünvan çubuğu və brauzerinizin ünvan barında şirkət və ya təşkilat adınızı göstərir. Bu görkəmli görmə təhlükəsizliyi göstəriciləri, ziyarətçiləri ziyarət etdiyin saytın təsdiqlənməsi üçün əlavə addımlar atıldığını, veb-saytınıza olan etibarını artırdığını və onun etibarlılığını artırdığını bildirir.
Recommended Use Cases
Business-critical
domains
eCommerce
New account
signup pages
Contains Your EV Authenticated Organization Details
Certificate details indicate your website is using an Extended Validation SSL Certificate and include the issuing CA, validity status, and expiration date.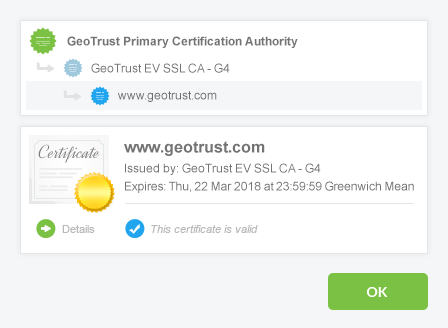 Prominent Visual Identity
Increase trust and confidence in your website with full identity verification and prominent visual features.
Trust Site Seal
Our SSL Certificates come with a trust seal that has been proven to increase visitor confidence and customer conversions.
$1.5m Warranty
EV Certificates come with a $1.5m warranty that covers data breaches caused due to a certificate flaw.
Certificate Features
Secure online transactions
99.9% Browser Compatibility
Our SSL certificates are from some of the most trusted brands in Online Security.



Powered by WHMCompleteSolution